Details

Hits: 1964
A National Fathers' Resource Center
Fathers for Equal Rights,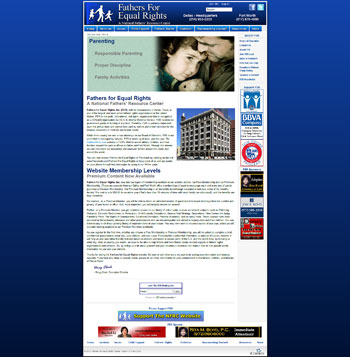 Inc. (FER), with its headquarters in Dallas, Texas, is one of the largest and most active fathers' rights organizations in the United States. FER is non-profit, educational, civil rights organization that is recognized as a 501(c)(3) organization by the U.S. Internal Revenue Service. FER receives no government grants or funding of any kind. Therefore, FER is primarily dependent upon the annual dues and service fees paid by walk-in and online members for the revenue necessary to meet its operational needs.
While there usually are one or two attorneys on our Board of Directors, FER is not controlled or managed by lawyers. FER is made up of dads, just like you. The Fathers4Kids.com website is FER's effort to assist fathers, children, and their families beyond the walk-in offices in Dallas and Fort Worth. Through the Internet we can now share our knowledge and empower fathers around the corner and around the world.
You can now access Fathers for Equal Rights at Facebook by clicking on the link www.Facebook.com/Fathers-For-Equal-Rights or keep track of us and our events on your phone through text messages by going to our Twitter page.
This new redesign for the Non Profit National Fathers 4 Kids website is beautiful and represents the 3rd opportunity iComEx has had to provide a new look and feel, design, and level of membership management tools to the national Fathers 4 Kids members across the nation. Thank you for the continued vote of confidence in providing this service to your community at large.
Details

Hits: 1924
Do You Need Help Today?
Get A Loan from Gold Star Finance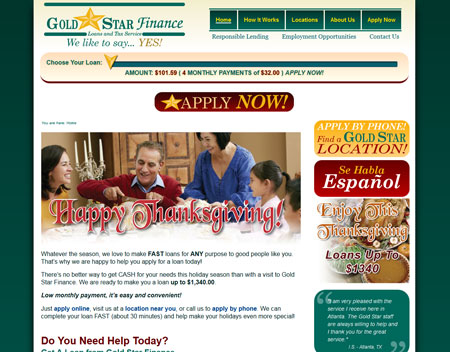 Life has its challenges - Gold Star Finance, Inc. helps take the stress out of your life. For over 48 years, Gold Star Finance has been helping people, just like you, deal with life's day to day challenges by making small personal loans from $100.00 up to $1,300. With over 50 locations in Texas, Gold Star Finance is here to serve you from Brownsville to Wichita Falls and from Texas City to Texarkana.
Don't Have Perfect Credit?
No Worries! Gold Star Finance makes traditional installment loans that are the perfect solution for those who need cash immediately or those who may not have good credit to qualify for a conventional bank loan. Our loans can even help you build a better credit score.
Apply online now or find a location near you and a professional, qualified Gold Star Finance staff member will help you with any questions you have about our short term consumer loans.
Gold Star Finance - We Like To Say "YES!"
Whatever the season, we love to make FAST loans for ANY purpose to good people like you. That's why we are happy to help you apply for a loan today!
There's no better way to get CASH for your needs this holiday season than with a visit to Gold Star Finance. We are ready to make you a loan up to $1,340.00.
Low monthly payment, it's easy and convenient!
Just apply online, visit us at a location near you, or call us to apply by phone. We can complete your loan FAST (about 30 minutes) and help make your holidays even more special!
Welcome Gold Star Finance and all your 50 locations to the iComEx Family. We are very pleased that your company has chosen us to represent Gold Star Finance, and we look forward to working with you and all your staff in the coming years! Be sure to check out the Application area of the site. This was a special programming process created just for Gold Star clients convenience at all 50 locations.
Details

Hits: 2204
Serving The North Central Texas Real Estate Needs
At Texas Ranch Real Estate LLC we help owners and buyers with their farm and ranch real estate needs. We know Texas Ranches and we know Texas Real Estate. More than 30 years of commercial real estate service and knowledge, coupled with a deeply rooted heritage in Texas land, Texas Ranch Real Estate owner Greg Trout knows who is looking for ranch real estate and where they are looking. Texas Ranch Real Estate specializes in large recreational ranch properties, small acreage and farm land in an around the North Central Texas region.
MARKET COVERAGE - We cover all areas of North Central Texas, but specialize in the highlighted counties below:
Palo Pinto County
Parker County
Young County
Jack County
Eastland County
Erath County
Stephens County
Schackelford County
Hood County
Somervell County
Comanche County
Full Service TEXAS RANCH REAL ESTATE,LLC - In today's highly competitive real estate market, the Texas Ranch Real Estate sales objective is simple: obtain the highest price in an optimum amount of time, using the most efficient and effective processes to achieve such results. Selling a ranch or recreational property requires strategic marketing skills and tactics that maximize exposure of your property to the broadest range of qualified prospects.
Welcome Greg Trout and Texas Ranch Real Estate to the iComEx family, we look forward to serving you and the Ranching Community in North Central Texas for many years to come.
Details

Hits: 1821
US Immigration Law Specialists
Holt James Law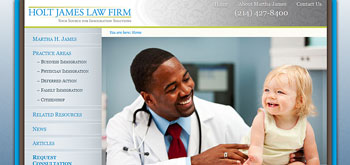 United States immigration law is constantly changing. Filing for a visa, permanent residence, or citizenship without knowing the intricacies of the law may adversely affect your case, sometimes permanently. It takes a dedicated attorney to keep up with the ever-changing laws, regulations, and policies that dictate how a case may be decided. Don't step into the immigration minefield without an attorney that practices immigration exclusively. Contact the Holt James Law Firm.
Martha H. James works with companies and individuals to obtain immigration benefits. She has helped hundreds of people obtain H-1B, L1, B1 and F1 visas. Additionally, she works very closely with foreign physicians to obtain J1 waivers through the Conrad 30 programs, Appalachian Regional Commission, Delta Regional Authority and Hardship Waivers. She has obtained labor certifications and national interest waivers for those seeking permanent residence and naturalization for clients wishing to establish permanent ties with the United States.
Welcome to the iComEx family Holt James Law. We look forward to the future and doing business with your company. Congratulations on your Success!
Details

Hits: 1860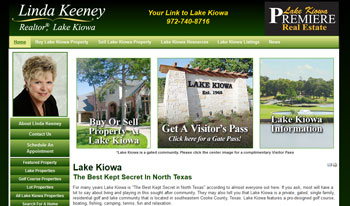 For many years Lake Kiowa is "The Best Kept Secret in North Texas" according to almost everyone out here. If you ask, most will have a lot to say about living and playing in this sought after community. They may also tell you that Lake Kiowa is a private, gated, single family, residential golf and lake community that is located in southeastern Cooke County, Texas. Lake Kiowa features a pro-designed golf course, boating, fishing, camping, tennis, fun and relaxation.
This beautiful paradise is only 10 miles Southeast of Gainesville Texas and just one hour North of the Dallas - Ft. Worth Metroplex. So, why don't you take a drive out here to Lake Kiowa, and see what this "Best Kept Secret" is really all about? If you'll contact me, I'd be very happy to arrange for you to see our community, and a few of the lovely homes or lots that I currently have listed. Look below, and let me know right now how I can help you find the home of your dreams.
Take a tour of Lake Kiowa and you'll see why D Magazine called it "South Florida dropped in North Texas"
iComEx completed the 2nd revision of this new Linda Keeney website. As approved NTREIS vendors, this site now promotes the regular MLS listings for Homes for Sale, Commercial Properties, Multi-Family Homes, Land & Lots, and Properties for Lease as well as a featured Lake Kiowa listings only locations. We appreciate you Linda Keeney, and wish you the best success in the coming years at Lake Kiowa Premier Real Estate.