Details

Hits: 2952
Serving The North Central Texas Real Estate Needs
At Texas Ranch Real Estate LLC we help owners and buyers with their farm and ranch real estate needs. We know Texas Ranches and we know Texas Real Estate. More than 30 years of commercial real estate service and knowledge, coupled with a deeply rooted heritage in Texas land, Texas Ranch Real Estate owner Greg Trout knows who is looking for ranch real estate and where they are looking. Texas Ranch Real Estate specializes in large recreational ranch properties, small acreage and farm land in an around the North Central Texas region.
MARKET COVERAGE - We cover all areas of North Central Texas, but specialize in the highlighted counties below:
Palo Pinto County
Parker County
Young County
Jack County
Eastland County
Erath County
Stephens County
Schackelford County
Hood County
Somervell County
Comanche County
Full Service TEXAS RANCH REAL ESTATE,LLC - In today's highly competitive real estate market, the Texas Ranch Real Estate sales objective is simple: obtain the highest price in an optimum amount of time, using the most efficient and effective processes to achieve such results. Selling a ranch or recreational property requires strategic marketing skills and tactics that maximize exposure of your property to the broadest range of qualified prospects.
Welcome Greg Trout and Texas Ranch Real Estate to the iComEx family, we look forward to serving you and the Ranching Community in North Central Texas for many years to come.
Details

Hits: 2513
US Immigration Law Specialists
Holt James Law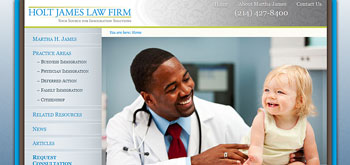 United States immigration law is constantly changing. Filing for a visa, permanent residence, or citizenship without knowing the intricacies of the law may adversely affect your case, sometimes permanently. It takes a dedicated attorney to keep up with the ever-changing laws, regulations, and policies that dictate how a case may be decided. Don't step into the immigration minefield without an attorney that practices immigration exclusively. Contact the Holt James Law Firm.
Martha H. James works with companies and individuals to obtain immigration benefits. She has helped hundreds of people obtain H-1B, L1, B1 and F1 visas. Additionally, she works very closely with foreign physicians to obtain J1 waivers through the Conrad 30 programs, Appalachian Regional Commission, Delta Regional Authority and Hardship Waivers. She has obtained labor certifications and national interest waivers for those seeking permanent residence and naturalization for clients wishing to establish permanent ties with the United States.
Welcome to the iComEx family Holt James Law. We look forward to the future and doing business with your company. Congratulations on your Success!