Welcome To Professional Cleaning Services At Their Best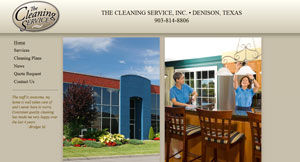 IComEx launches the new Texoma Cleaning Service website. The Cleaning Service located right in the heart of the Texoma region in DenisonTexas, is a family owned, quality driven, professional cleaning service for your home or commercial office. We are registered, bonded and insured for your safety and ours. The Cleaning Service has been in business since 1998 and has built a fine reputation for quality work, unmatched reliability, consistent quality, and exceptional customer service! Our primary goals are making sure that you, as our preferred client, will have peace of mind about us keeping your business or home in perfect order.
The Cleaning Service provides professional turnkey commercial janitorial and residential cleaning services. Located in Denison Texas, we service the Texoma region and surrounding cities of North Texas and Southern Oklahoma. For over 10 years, The Cleaning Service has delivered the North Texas and Southern Oklahoma communities with customized janitorial and residential cleaning services which meet the highest standards for homes and busineses in Grayson, Cooke and Fannin counties. Licensed, bonded and insured, our versatile staff here at The Cleaning Service will make sure that you have peace of mind and trust that our professional staff is well trained and here to meet and maintain all your commercial & residential cleaning needs. We invite you to call us right now at 903-814-8806 and find out more about how we can help you with all your cleaning needs.
Welcome to the iComEx Family Texoma Cleaning. We look forward to the future and doing business with your company. Congratulations on your Success!