Don Schneider's Lake Kiowa Homes
Find Your Perfect Home or Weekend Retreat in Lake Kiowa, Texas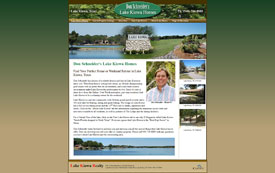 Don Schenider's Lake Kiowa Homes has dozens of available homes and lots at Lake Kiowa to show you. Waterfront homes with private docks, an 18-hole championship golf course with no green fees for all residents, and a laid-back country environment make Lake Kiowa the perfect place to live. Since it's only a short drive from the Dallas / Fort Worth metroplex, part-time residents find Lake Kiowa to be a relaxing retreat for the weekend.
Lake Kiowa is a private community with 24-hour guard-gated security and a 563 acre lake for boating, skiing and great fishing. The Lodge at Lake Kiowa has a full service dining room and the 19th Hole serves drinks, appetizers and lunch. Click on the "About Lake Kiowa" tab for information regarding the numerous social clubs and activities available to all residents, as well as pictures of The Lodge and the dining facilities.
For a Virtual Tour of the lake, click on the Tour Lake Kiowa tab to see why D Magazine called Lake Kiowa "South Florida dropped in North Texas". Everyone agrees that Lake Kiowa is the "Best Kept Secret" in Texas.
Don Schneider looks forward to meeting you and showing you all the special things that Lake Kiowa has to offer. Don can also help you sell your lake or country property. Please call 940-736-8889 with any questions you have about Lake Kiowa and the surrounding area.
We welcome Don with this new website and look forward to many years doing business together. Congratulations!