Details

Hits: 2836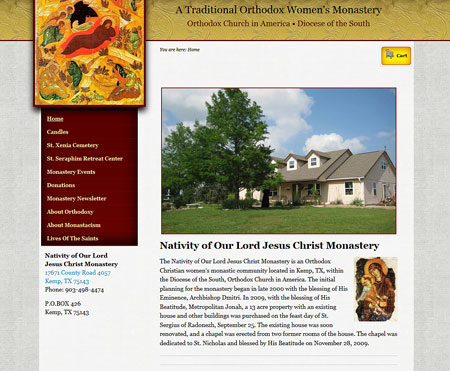 The Nativity of Our Lord Jesus Christ Monastery is an Orthodox Christian women's monastic community located in Kemp, TX, within the Diocese of the South, Orthodox Church in America. The initial planning for the monastery began in late 2000 with the blessing of His Eminence, Archbishop Dmitri. In 2009, with the blessing of His Beatitude, Metropolitan Jonah, a 13 acre property with an existing house and other buildings was purchased on the feast day of St. Sergius of Radonezh, September 25. The existing house was soon renovated, and a chapel was erected from two former rooms of the house. The chapel was dedicated to St. Nicholas and blessed by His Beatitude on November 28, 2009.
Special Monastery Invitation
One Year Memorial for + Schema Nun Elizabeth
The sisters of Nativity Monastery invite you to join them for the one year memorial for departed + Schema Nun Elizabeth on Tuesday, October 14, 2014. The Divine Liturgy will begin at 9:30am, followed by a Pannikhida in the Blessed Xenia Cemetery. A luncheon also will be served afterwards in the St. Seraphim of Sarov Retreat Center.
You may RSVP by calling the monastery at 903-498-4474 or by sending an email to This email address is being protected from spambots. You need JavaScript enabled to view it.
+ Schema Nun Elizabeth fell asleep in the Lord on October 14, 2013. May her memory be eternal!
Welcome Dear Sisters to the family here at iComEx. A place of retreats, peace, education events and love is always welcome to the Texas community around Dallas. Thank you for your prayers for us, and for all our clients.
Details

Hits: 2907
Go For The WOW Factor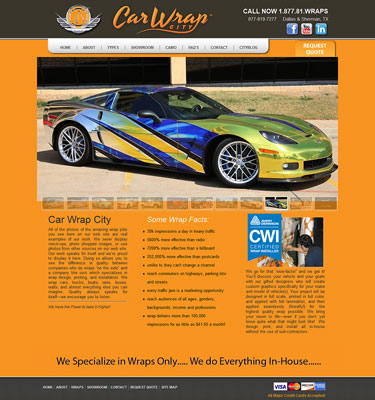 Car Wrap City specializes in state of the art technology in the materials and installation for your all your custom vehicle wraps. All of the photos of the amazing wrap jobs you see here on our web site are real examples of our work. We never display mock-ups, photo shopped images, or use photos from other sources on our web site.
Our work speaks for itself and we're proud to display it here. Doing so allows you to see the difference in quality between companies who do wraps "on the side" and a company like ours which specializes in wrap design, printing, and installation. We wrap cars, trucks, boats, vans, buses, walls, and almost everything else you can imagine. Quality always speaks for itself—we encourage you to listen.
If You Can Dream It We Can Wrap It!
Car Wraps
Truck Wraps
Boat Wraps
Van Wraps
Trailer Wraps
Fleet Wraps
Architectural Wraps
Unique Wraps
Camouflage Wraps
Golf Cart Wraps
Full Wraps
Partial Wraps
Large Format Graphics
Window Display Graphics
Theater Background Graphics
And More!
We go for that "wow-factor" and we get it! You'll discuss your vehicle and your goals with our gifted designers who will create custom graphics specifically for your make and model of vehicle(s). Your project will be designed in full scale, printed in full color, and applied with full lamination, and then applied seamlessly (literally!) for the highest quality wrap possible. We bring your vision to life—even if you don't yet know quite what that might look like! We design, print, and install all in-house without the use of sub-contractors.
If it has wheels, floats, or flies we can wrap it: Cars, trucks, vans, buses, motorcycles, trailers, golf carts, ATV's, boats, light aircraft, and more.
We're able to wrap anything that will stand still long enough! We don't need a flat surface to accomplish a fantastic result that will last. In fact, we're skilled at achieving impressive results on the most challenging of surfaces…if you can dream it, we can wrap it!
iComEx welcomes Car Wrap City to the family as we launch their new website today. Thank you so much for the vote of confidence in choosing us for your new website and we look forward to a wonderful business relationship in the coming years.