Details

Hits: 2339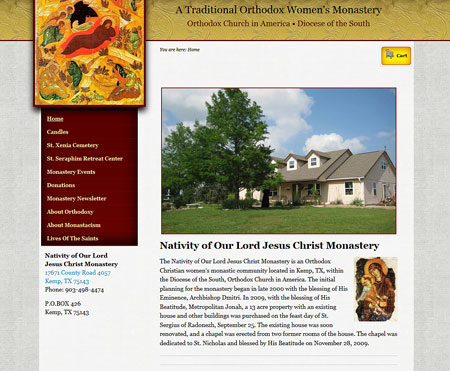 The Nativity of Our Lord Jesus Christ Monastery is an Orthodox Christian women's monastic community located in Kemp, TX, within the Diocese of the South, Orthodox Church in America. The initial planning for the monastery began in late 2000 with the blessing of His Eminence, Archbishop Dmitri. In 2009, with the blessing of His Beatitude, Metropolitan Jonah, a 13 acre property with an existing house and other buildings was purchased on the feast day of St. Sergius of Radonezh, September 25. The existing house was soon renovated, and a chapel was erected from two former rooms of the house. The chapel was dedicated to St. Nicholas and blessed by His Beatitude on November 28, 2009.
Special Monastery Invitation
One Year Memorial for + Schema Nun Elizabeth
The sisters of Nativity Monastery invite you to join them for the one year memorial for departed + Schema Nun Elizabeth on Tuesday, October 14, 2014. The Divine Liturgy will begin at 9:30am, followed by a Pannikhida in the Blessed Xenia Cemetery. A luncheon also will be served afterwards in the St. Seraphim of Sarov Retreat Center.
You may RSVP by calling the monastery at 903-498-4474 or by sending an email to This email address is being protected from spambots. You need JavaScript enabled to view it.
+ Schema Nun Elizabeth fell asleep in the Lord on October 14, 2013. May her memory be eternal!
Welcome Dear Sisters to the family here at iComEx. A place of retreats, peace, education events and love is always welcome to the Texas community around Dallas. Thank you for your prayers for us, and for all our clients.
Details

Hits: 2363
Go For The WOW Factor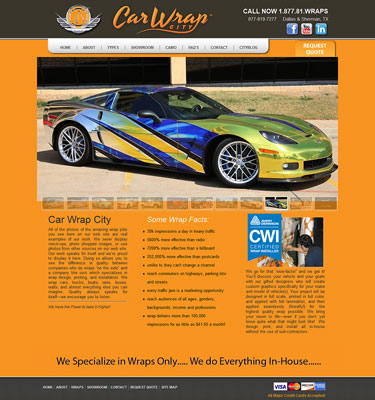 Car Wrap City specializes in state of the art technology in the materials and installation for your all your custom vehicle wraps. All of the photos of the amazing wrap jobs you see here on our web site are real examples of our work. We never display mock-ups, photo shopped images, or use photos from other sources on our web site.
Our work speaks for itself and we're proud to display it here. Doing so allows you to see the difference in quality between companies who do wraps "on the side" and a company like ours which specializes in wrap design, printing, and installation. We wrap cars, trucks, boats, vans, buses, walls, and almost everything else you can imagine. Quality always speaks for itself—we encourage you to listen.
If You Can Dream It We Can Wrap It!
Car Wraps
Truck Wraps
Boat Wraps
Van Wraps
Trailer Wraps
Fleet Wraps
Architectural Wraps
Unique Wraps
Camouflage Wraps
Golf Cart Wraps
Full Wraps
Partial Wraps
Large Format Graphics
Window Display Graphics
Theater Background Graphics
And More!
We go for that "wow-factor" and we get it! You'll discuss your vehicle and your goals with our gifted designers who will create custom graphics specifically for your make and model of vehicle(s). Your project will be designed in full scale, printed in full color, and applied with full lamination, and then applied seamlessly (literally!) for the highest quality wrap possible. We bring your vision to life—even if you don't yet know quite what that might look like! We design, print, and install all in-house without the use of sub-contractors.
If it has wheels, floats, or flies we can wrap it: Cars, trucks, vans, buses, motorcycles, trailers, golf carts, ATV's, boats, light aircraft, and more.
We're able to wrap anything that will stand still long enough! We don't need a flat surface to accomplish a fantastic result that will last. In fact, we're skilled at achieving impressive results on the most challenging of surfaces…if you can dream it, we can wrap it!
iComEx welcomes Car Wrap City to the family as we launch their new website today. Thank you so much for the vote of confidence in choosing us for your new website and we look forward to a wonderful business relationship in the coming years.
Details

Hits: 2219
First London Securities
First London Securities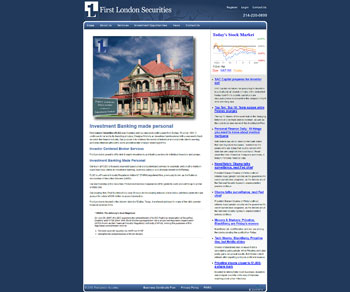 (FLSC) was founded and has operated continuously from Dallas, TX since 1991. It continues to be led by its founding principal, Douglas Nichols an investment professional with a successful track record in the finance industry. Our purpose is to address the needs of individual and corporate clients seeking personal attention without the costs and inflexibility of larger brokerage firms.
Investor Centered Broker Services
First London is proud to offer debt & equity investments and trading services to individual investors and groups.
Investment Banking Made Personal
Our team at FLSC is focused on providing personal and customized services to corporate and small to medium sized business clients in investment banking, business advisory and strategic investment offerings.
FLSC is a Financial Industry Regulatory Authority* (FINRA) registered firm, previously known as the National Association of Securities Dealers (NASD).
Our membership in the Securities Protection Investors Corporation (SPIC) protects each account for up to a total of $500,000.
Our clearing firm, First Southwest has over 20 years in the clearing industry and provides additional protection per account for a total of $10 million in account protection.
First London is located in the Uptown district of Dallas, Texas. A preferred address for many of the city's premier financial services firms.
Over the past 20 years we have provided key services to our diverse clients that have spanned from Securities brokerage services, capital raising, private placements, Initial Public Offerings (IPO), Stock buy-backs, mergers, acquisitions, etc. Although our market maker operations ceased in 2009, we still work with partners and clients in listings and transactions for issuers. We look forward to working with you as your personal investment banking partner in exploring and executing the best financing strategy for you and your business.
We welcome First London Securities to the iComEx family and look forward to serving you in the years to come for all your Web Agency needs.
Details

Hits: 2280
A National Fathers' Resource Center
Fathers for Equal Rights,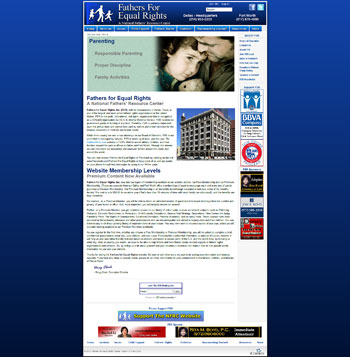 Inc. (FER), with its headquarters in Dallas, Texas, is one of the largest and most active fathers' rights organizations in the United States. FER is non-profit, educational, civil rights organization that is recognized as a 501(c)(3) organization by the U.S. Internal Revenue Service. FER receives no government grants or funding of any kind. Therefore, FER is primarily dependent upon the annual dues and service fees paid by walk-in and online members for the revenue necessary to meet its operational needs.
While there usually are one or two attorneys on our Board of Directors, FER is not controlled or managed by lawyers. FER is made up of dads, just like you. The Fathers4Kids.com website is FER's effort to assist fathers, children, and their families beyond the walk-in offices in Dallas and Fort Worth. Through the Internet we can now share our knowledge and empower fathers around the corner and around the world.
You can now access Fathers for Equal Rights at Facebook by clicking on the link www.Facebook.com/Fathers-For-Equal-Rights or keep track of us and our events on your phone through text messages by going to our Twitter page.
This new redesign for the Non Profit National Fathers 4 Kids website is beautiful and represents the 3rd opportunity iComEx has had to provide a new look and feel, design, and level of membership management tools to the national Fathers 4 Kids members across the nation. Thank you for the continued vote of confidence in providing this service to your community at large.
Details

Hits: 2207
Do You Need Help Today?
Get A Loan from Gold Star Finance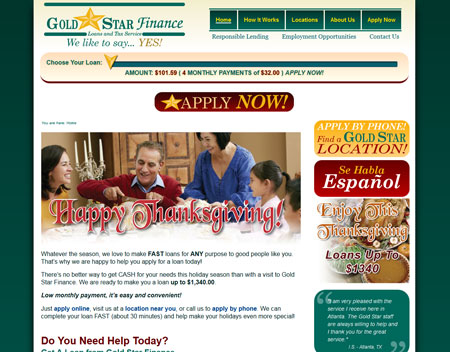 Life has its challenges - Gold Star Finance, Inc. helps take the stress out of your life. For over 48 years, Gold Star Finance has been helping people, just like you, deal with life's day to day challenges by making small personal loans from $100.00 up to $1,300. With over 50 locations in Texas, Gold Star Finance is here to serve you from Brownsville to Wichita Falls and from Texas City to Texarkana.
Don't Have Perfect Credit?
No Worries! Gold Star Finance makes traditional installment loans that are the perfect solution for those who need cash immediately or those who may not have good credit to qualify for a conventional bank loan. Our loans can even help you build a better credit score.
Apply online now or find a location near you and a professional, qualified Gold Star Finance staff member will help you with any questions you have about our short term consumer loans.
Gold Star Finance - We Like To Say "YES!"
Whatever the season, we love to make FAST loans for ANY purpose to good people like you. That's why we are happy to help you apply for a loan today!
There's no better way to get CASH for your needs this holiday season than with a visit to Gold Star Finance. We are ready to make you a loan up to $1,340.00.
Low monthly payment, it's easy and convenient!
Just apply online, visit us at a location near you, or call us to apply by phone. We can complete your loan FAST (about 30 minutes) and help make your holidays even more special!
Welcome Gold Star Finance and all your 50 locations to the iComEx Family. We are very pleased that your company has chosen us to represent Gold Star Finance, and we look forward to working with you and all your staff in the coming years! Be sure to check out the Application area of the site. This was a special programming process created just for Gold Star clients convenience at all 50 locations.