Details

Hits: 2880
Action Plumbing Heating Air Conditioning & Electrical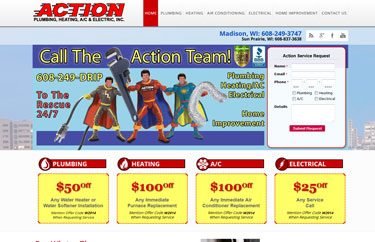 is pleased to announce their brand new website. Loaded with features for your convenience, we are now mobile friendly, have employment applications online, and easy to complete work orders for service. Coupons are up front and personal, and take a new look at our latest turn key remodeling under the Home Improvement button. We are here to serve you in the Madison greater community and we look forward to speaking with you soon. Here is a little about the Action Team!
About Us
Action Plumbing, Heating, Air Conditioning and Electric, Inc. has been in the Madison Area since 1989. The business was founded by husband and wife team Curt and Leslie Johnson. Curt and Leslie believe that when people have plumbing, heating, cooling or electrical repairs they want those repairs done quickly, at a fair price and professionally by a company they can trust. We stand behind our work with a two year warranty on labor and materials for all fixtures which we provide and install. We also have an A+ rating with the BBB and have received awards for our service from Angie's list members and readers of the Star.
Mission Statement:
Action Plumbing, Heating, Air Conditioning and Electric's purpose is to add real value to the lives of our customers! We as employees of Action Plumbing and Air are willing to do whatever it takes to make our customer's lives easier, solve their problems, meet their needs and answer their questions.
Action Plumbing Heating Air Conditioning and Electrical is here to help, simply ask us about new turnkey Kitchen & Bathroom Remodeling Division!
Madison, WI: 608-249-DRIP (3747), Sun Prairie, WI: 608-837-3638, when you need an expert for all your plumbing needs... Call us today and get started on making changes in your home! Your Favorite Madison Plumber!
iComEx has provided the means for Action to bring out the best services they have to offer for their clients in the Greater Madison Communities and cities. Find out more by clicking the link on the name above. Thank you for your support and belief in iComEx to present your company to the Wisconsin clients you have served for over 20 years. Keep up the good work!
Details

Hits: 2775
Presents : Tech or Treat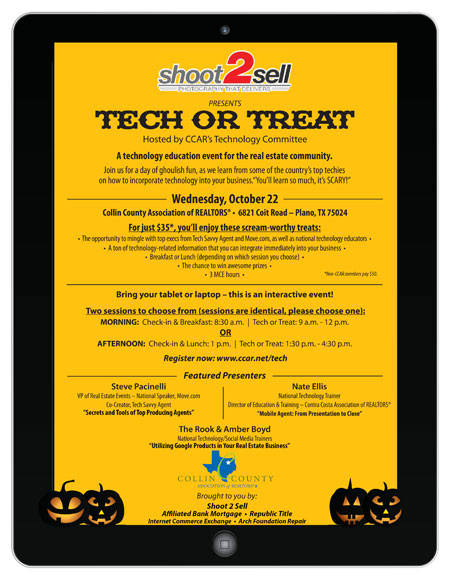 Thank you Collin County Association of Realtors for your attendance at this awesome event! It was well attended and our staff enjoyed meeting so many who stopped by our booth at this event. If you still have questions, remember to give us a call on how we can assist you with your MLS listings on your Brokerage and Agent websites...We are here to Serve.
A technology education event for the real estate community. Join iComEx at this premier event for the Realtors in North Texas. iComEx will have a vendor booth, plenty of treats, prizes, and specials for new business clients. Be sure to register for the door prizes! See you there!!!!
Presented by Shoot 2 Sell & hosted by CCAR's Technology Committee
Wednesday, October 22, 2014
CCAR Banquet Room - 6821 Coit Road, Plano
Two sessions to choose from (sessions are identical, please choose one):
MORNING SESSION
Check-in & Breakfast: 8:30 a.m.
Tech or Treat: 9 a.m.-12 p.m.
OR
AFTERNOON SESSION
Check-in & Lunch: 1 p.m.
Tech or Treat: 1:30-4:30 p.m.
For just $35, you'll enjoy these scream-worthy treats:
The opportunity to mingle with top execs from Tech Savvy Agent and Move.com, as well as national technology educators:
A ton of technology-related information that you can integrate immediately into your business
Breakfast or Lunch (depending on which session you choose)
The chance to win awesome prizes
3 MCE hours
*Non-CCAR members pay $50.
Due to limited seating, those who fail to cancel 48 hours in advance, arrive on time, or attend the event will forfeit their $35 registration fee. To register for Tech or Treat, please call CCAR at 972-618-3800.
"You'll learn so much, it's SCARY!"
Join us for a day of ghoulish fun, as we learn from some of the country's top techies on how to incorporate technology into your business.