Details

Hits: 2334
Three Locations To Serve You Better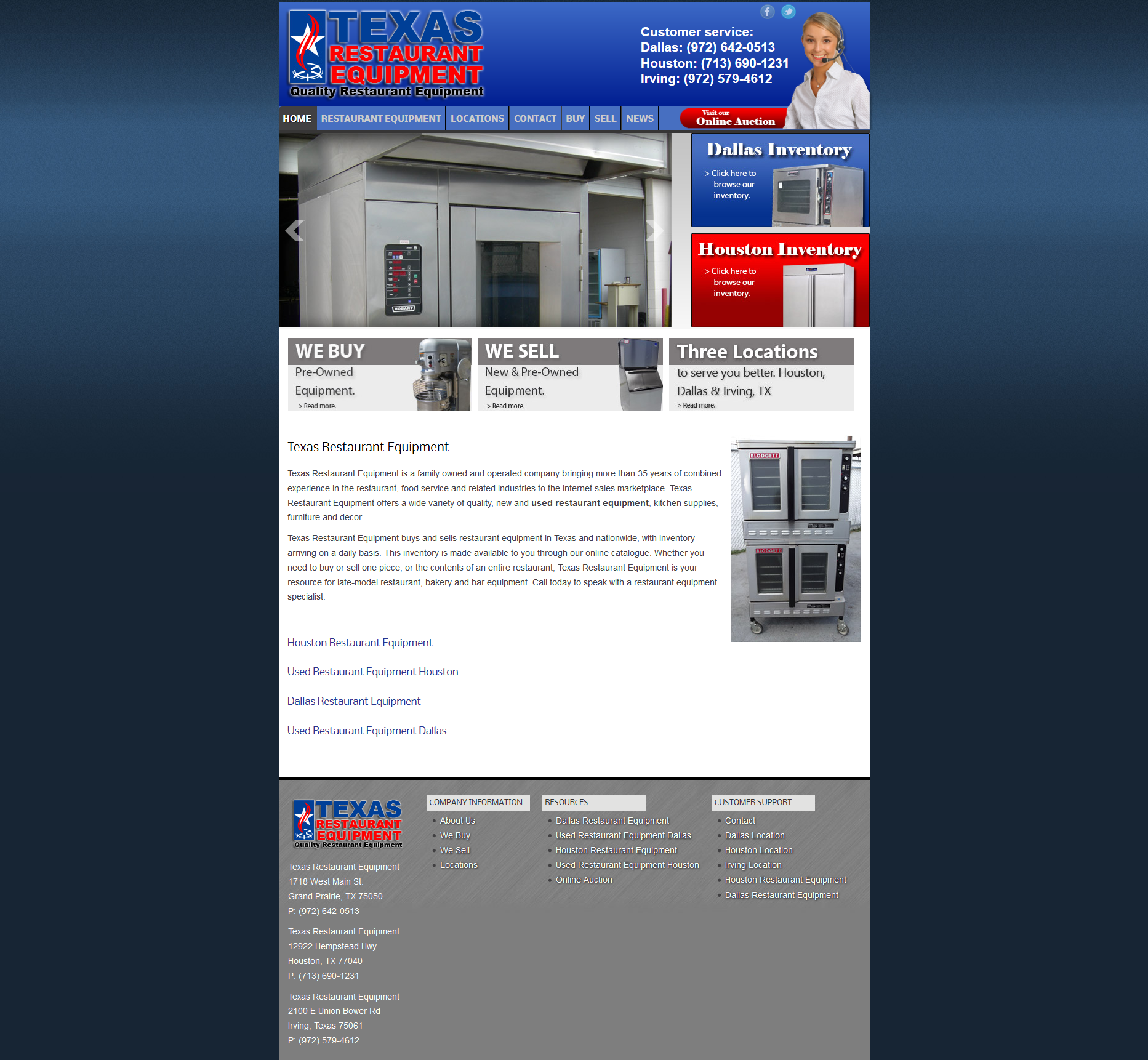 iComEx is proud to launch the new Texas Resbaurant Equipment Website. Texas Restaurant Equipment is a leading auctioneer of New and Used Restaurant Equipment in the Foodservice Industry. With 3 locations to serve the restaurant industry with commercial kitchen equipment, please visit the showrooms in Dallas, Houston and Irving. We look forward to working with you in the coming years.
Texas Restaurant Equipment is a family owned and operated company bringing more than 35 years of combined experience in the restaurant, food service and related industries to the internet sales marketplace. Texas Restaurant Equipment offers a wide variety of quality, new and used restaurant equipment, kitchen supplies, furniture and decor.
Texas Restaurant Equipment buys and sells restaurant equipment in Texas and nationwide, with inventory arriving on a daily basis. This inventory is made available to you through our online catalogue. Whether you need to buy or sell one piece, or the contents of an entire restaurant, Texas Restaurant Equipment is your resource for late-model restaurant, bakery and bar equipment. Call today to speak with a restaurant equipment specialist.
Houston Restaurant Equipment
Used Restaurant Equipment Houston
Dallas Restaurant Equipment
Used Restaurant Equipment Dallas
Details

Hits: 1961
Welcome To The New Brainstyles Website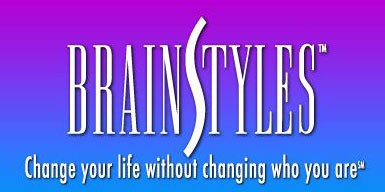 Welcome to The New Brainstyles website. Marlene Miller, Author, Developer and Researcher of The BrainStyles System®, Founder of the international Licensing organization, BrainStyles, Inc. says"I invite you to explore our web site. Learn how BrainStyles was born in a business setting instead of a classroom. Explore how you can get behind behaviors and appearances to the gifts beneath. No more tricks or communication techniques, just you being you at your best, using your natural brainstyle."
"To improve yourself, be more yourself. To create a long-lasting partnership, stop trying to change yourself or your partner.
Go beyond personality types and self-help books. Redefine yourself from within. Start by learning about and then applying your natural, hardwired brainstyle™ to grow as a leader, build teams naturally without long lists of behavioral descriptions, while you reduce stress and conflict.
"Your job in life is not to learn how to be different [or better], it is to spend more time realizing, and living from the best that's already within. The difference between people who "realize their potential" and those who don't is not the amount of potential, but the amount of permission they give themselves to use it."
We welcome all of you in the Brainstyles company to the iComEx family and look forward to working with each one of you in the years to come. Thank you for choosing iComEx as your website developer! It's a wonderful vote of confidence for us.
Details

Hits: 2018
Action Plumbing Heating Air Conditioning & Electrical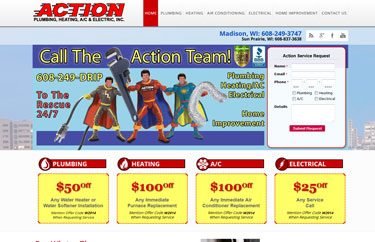 is pleased to announce their brand new website. Loaded with features for your convenience, we are now mobile friendly, have employment applications online, and easy to complete work orders for service. Coupons are up front and personal, and take a new look at our latest turn key remodeling under the Home Improvement button. We are here to serve you in the Madison greater community and we look forward to speaking with you soon. Here is a little about the Action Team!
About Us
Action Plumbing, Heating, Air Conditioning and Electric, Inc. has been in the Madison Area since 1989. The business was founded by husband and wife team Curt and Leslie Johnson. Curt and Leslie believe that when people have plumbing, heating, cooling or electrical repairs they want those repairs done quickly, at a fair price and professionally by a company they can trust. We stand behind our work with a two year warranty on labor and materials for all fixtures which we provide and install. We also have an A+ rating with the BBB and have received awards for our service from Angie's list members and readers of the Star.
Mission Statement:
Action Plumbing, Heating, Air Conditioning and Electric's purpose is to add real value to the lives of our customers! We as employees of Action Plumbing and Air are willing to do whatever it takes to make our customer's lives easier, solve their problems, meet their needs and answer their questions.
Action Plumbing Heating Air Conditioning and Electrical is here to help, simply ask us about new turnkey Kitchen & Bathroom Remodeling Division!
Madison, WI: 608-249-DRIP (3747), Sun Prairie, WI: 608-837-3638, when you need an expert for all your plumbing needs... Call us today and get started on making changes in your home! Your Favorite Madison Plumber!
iComEx has provided the means for Action to bring out the best services they have to offer for their clients in the Greater Madison Communities and cities. Find out more by clicking the link on the name above. Thank you for your support and belief in iComEx to present your company to the Wisconsin clients you have served for over 20 years. Keep up the good work!
Details

Hits: 2029
Presents : Tech or Treat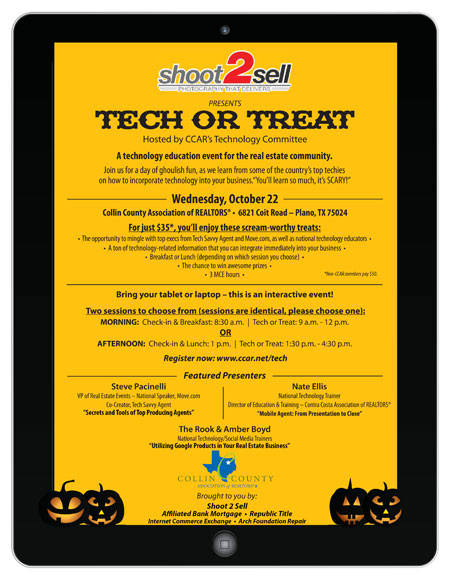 Thank you Collin County Association of Realtors for your attendance at this awesome event! It was well attended and our staff enjoyed meeting so many who stopped by our booth at this event. If you still have questions, remember to give us a call on how we can assist you with your MLS listings on your Brokerage and Agent websites...We are here to Serve.
A technology education event for the real estate community. Join iComEx at this premier event for the Realtors in North Texas. iComEx will have a vendor booth, plenty of treats, prizes, and specials for new business clients. Be sure to register for the door prizes! See you there!!!!
Presented by Shoot 2 Sell & hosted by CCAR's Technology Committee
Wednesday, October 22, 2014
CCAR Banquet Room - 6821 Coit Road, Plano
Two sessions to choose from (sessions are identical, please choose one):
MORNING SESSION
Check-in & Breakfast: 8:30 a.m.
Tech or Treat: 9 a.m.-12 p.m.
OR
AFTERNOON SESSION
Check-in & Lunch: 1 p.m.
Tech or Treat: 1:30-4:30 p.m.
For just $35, you'll enjoy these scream-worthy treats:
The opportunity to mingle with top execs from Tech Savvy Agent and Move.com, as well as national technology educators:
A ton of technology-related information that you can integrate immediately into your business
Breakfast or Lunch (depending on which session you choose)
The chance to win awesome prizes
3 MCE hours
*Non-CCAR members pay $50.
Due to limited seating, those who fail to cancel 48 hours in advance, arrive on time, or attend the event will forfeit their $35 registration fee. To register for Tech or Treat, please call CCAR at 972-618-3800.
"You'll learn so much, it's SCARY!"
Join us for a day of ghoulish fun, as we learn from some of the country's top techies on how to incorporate technology into your business.
Details

Hits: 2093
Check out additional Fusion Home projects on Houzz.com!
Houzz is a great resource for finding inspiration for upcoming projects or just perusing great design! Narrow your search by style, room and metro area and save your favorite images to an idea book that you can share with us so we can help you design the ideal space!
Our website has been revamped and updated! Check out the NEW "Design" tab to see a small fraction of what we have been up to for the last five years and see what we can do for you. Indoor/Outdoor, Bathroom/Kitchen, Lighting, Rugs, Draperies…With endless resources, unmatched customer service and expertise in all things "design", the possibilities are limitless.
Did you know?.....The following pages are an extremely small sample of what we do. We have resources with hundreds of vendors which allow us to be versatile and offer various styles and price points. Full interior design services are a huge part of what we do and we can assist at any point of the process. Whether it be a new build, remodel, 1 room or 1 piece. If you are looking for something unique chances are we can find it and if not, we can make it! Some of our vendors include Calligaris, GUS Modern, Incanto, American Leather, Environment, Lazar and hundreds more. Not to mention 100% Local Art!
Visualizing a space and seeing a design plan come full circle is one of the most difficult hurdles for people overcome. The design shows do fancy 3D renderings and mock ups to show clients exactly how their space will look, "Why can't I do that?" You can! Click on the Design tab to learn more about how Fusion can eliminate the guesswork."
iComEx just launched the latest version of Fusion Home Fashion. Noteworthy national clients since 2012, their designs are featured on Houzz, HG TV, and are 2014 winners of the Best of Bid D designers just to mention a few of their accolades...So proud of you all!