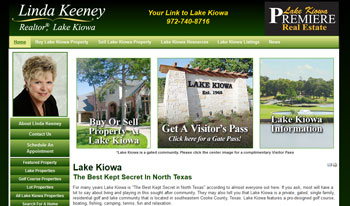 For many years Lake Kiowa is "The Best Kept Secret in North Texas" according to almost everyone out here. If you ask, most will have a lot to say about living and playing in this sought after community. They may also tell you that Lake Kiowa is a private, gated, single family, residential golf and lake community that is located in southeastern Cooke County, Texas. Lake Kiowa features a pro-designed golf course, boating, fishing, camping, tennis, fun and relaxation.
This beautiful paradise is only 10 miles Southeast of Gainesville Texas and just one hour North of the Dallas - Ft. Worth Metroplex. So, why don't you take a drive out here to Lake Kiowa, and see what this "Best Kept Secret" is really all about? If you'll contact me, I'd be very happy to arrange for you to see our community, and a few of the lovely homes or lots that I currently have listed. Look below, and let me know right now how I can help you find the home of your dreams.
Take a tour of Lake Kiowa and you'll see why D Magazine called it "South Florida dropped in North Texas"
iComEx completed the 2nd revision of this new Linda Keeney website. As approved NTREIS vendors, this site now promotes the regular MLS listings for Homes for Sale, Commercial Properties, Multi-Family Homes, Land & Lots, and Properties for Lease as well as a featured Lake Kiowa listings only locations. We appreciate you Linda Keeney, and wish you the best success in the coming years at Lake Kiowa Premier Real Estate.