Details

Hits: 1999
Dallas Tankless Water Heaters
Atlas Plumbing Offers The Best Choice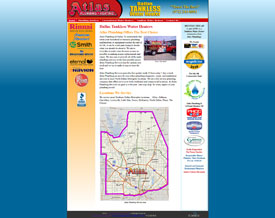 Dallas Tankless Water Heaters & Atlas Plumbing of Dallas Tx understands that when your household or business plumbing malfunctions or equipment reaches the end of its life, it can be a real pain trying to decide what you should do about it. We strive everyday to make your decision as easy as possible in making proper replacements and repair. We also aim to provide all of the right plumbing services at the best possible prices. Atlas Plumbing Services has the options you need and we try to make it easy to trust the best.
Atlas Plumbing Services provides fast quality work 24 hour a day 7 day a week. Atlas Plumbing can provide you with a plumbing diagnostic, repair, and installation services to most North Dallas Metroplex locations. We are a full service plumbing company that offers services to both residential and commercial locations. At Atlas Plumbing Services our goal is to be your 'one-stop shop' for every aspect of your plumbing needs!
Locations We Service
We service most Northern Dallas Metroplex locations… Allen, Addison, Carrollton, Lewisville, Little Elm, Frisco, McKinney, North Dallas, Plano, The Colony.
We welcome Dallas Tankless Water Heater.com to the iComEx family. Everyone here is looking forward to working with you and the members of your company in the coming years.
Details

Hits: 2006
Magnabrite® Light Gathering Magnifier
Bring your world into focus with the original Magnabrite!
Magnabrite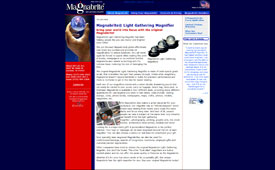 Light Gathering Magnifier has been helping people like you see clearer and brighter since 1950.
The pre-focused Magnabrite® glides effortlessly over most any surface and provides 4X magnification to relieve eyestrain. You will never again be forced to squint while reading fine print in books, newspapers or on medicine bottles. Magnabrite also resists scratching with it's concave base; reducing the risk of damaging the lens.
The original Magnabrite Light Gathering Magnifier is made of solid optical grade acrylic that intensifies the light that passes through. Unlike other magnifiers, Magnabrite doesn't require batteries or bulbs for precision performance and there is no frame to get in the way for easier viewing.
Each one of our magnifiers comes with a velvet double drawstring pouch that can easily be carried in your purse, carry on luggage, beach bag, back pack, or briefcase. Magnabrite is available in four different sizes, providing many different applications for use anytime you want to see clearly. Uses include: viewing stamps, coins, phone books, newspapers, maps, crafts, photos, models, magazines, etc.
Thank you Magnabrite for the vote of confidence in the creation of the newly redesigned web site which employs the latest shopping cart software and encription for your clients. We look forward to doing business with your company in the future.
Details

Hits: 2074
1st Annual Fundraising Event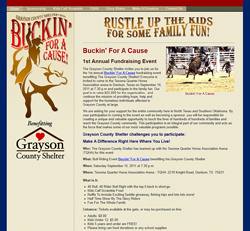 The Grayson County Shelter invites you to join us for the 1st annual Buckin' For A Cause fundraising event benefiting The Grayson County Shelter! Everyone is invited to come to the Texoma Quarter Horse Association arena in Denison, Texas on September 10, 2011 at 7:30 p.m and participate in the family fun. Our goal is to raise $25,000 for the organization, and continue the mission of providing hope, help and support for the homeless individuals affected in Grayson County at large.
We are asking for your support for the entire community here in North Texas and Southern Oklahoma. By your participation in coming to the event as well as becoming a sponsor, you will be responsible for creating a unique and valuable opportunity to touch the lives of hundreds of hundreds of families and reach the Grayson County community. This participation is an integral part of our community and acts as the force that makes some of our most valuable programs possible.
Our goal for this event is to raise $25,000 + in net proceeds for the Shelter. These funds will be used towards the completion of over 20 Capital Funds projects that have been slated for fiscal year 2011. It is our hope to exceed the total amount required for this year, and we are excited to ask for your involvement in this year's event to help raise funds for our cause, attract attendees, and generate local and regional attention.
iComEx welcomes this 3rd web site to the iComEx family for the Grayson County Shelter located in Denison Texas. This fundraising website is designed and provided as a donation on behalf of iComEx as part of our ongoing efforts to give back to our community. We are grateful to everyone at Grayson County Shelter for their hard work and help providing food, clothing, shelter and hope to so many families in the Texoma region of North Texas and Southern Oklahoma!
Details

Hits: 1959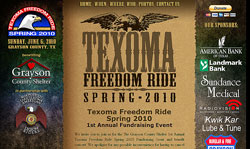 Texoma Freedom Ride invites you to join us for the The Grayson County Shelter 1st Annual Texoma Freedom Ride Spring 2010 Fundraiser Event and benefit concert in Sherman/Denison Texas. Our goal is to raise $25,000 for immediate major capital improvements needed at the Grayson County Shelter. We are asking for your support for the entire community here in North Texas and Southern Oklahoma.

About the Event:
Who: The Grayson County Shelter has teamed up with the American Legion Riders Post 361 Riders to create an area wide Motorcycle Ride
What: Motorcycle Run benefiting the Grayson County Shelter
When: Sunday, May 16th, 2010, from 10:00 - 6:00 p.m.
Where: Loose Wheels in Denison Texas, one of the most popular venues in Grayson County

This new web site makes use of several the iComEx Content Management Systems behind the scenes: ICX Publish, ICX Resources, ICX Banners, ICX News, and the ICX Stats & Counters package. These are all part of the next generation version of the popular ICX Publish web site publishing suite.
Details

Hits: 1963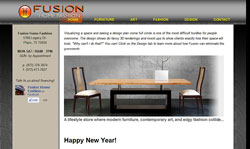 Fusion Home Fashion - Yes, as our namesake implies we provide fashion to the body as well as the home. Like our furniture, we focus on unique lines that are high quality and well priced. Some you may recognize like, William Rast and 1921 denim, and some are great unknown finds that you won't see on every other person in Dallas. Keep in mind that fashion changes faster than our site so please check in store often for current product. Furniture, Fashion and Art - That's the FUSION!
Visualizing a space and seeing a design plan come full circle is one of the most difficult hurdles for people overcome. The design shows do fancy 3D renderings and mock ups to show clients exactly how their space will look, "Why can't I do that?" You can! Click on the Design tab to learn more about how Fusion can eliminate the guesswork. You've seen it on all of the design shows; amazing 3D, computer generated drawings and layouts of furniture, bathrooms, renovations etc. that allow you to visualize a space without costly mistakes or back-breaking work. Enter Fusion Virtual Room. Eliminate the guesswork and see exactly what your space can look like with new and existing furnishings! Guided by our expert advice in everything from rugs to lighting to custom draperies and furniture.
We have resources with hundreds of vendors which allow us to be versatile and offer various styles and price points. Full interior design services are a huge part of what we do and we can assist at any point of the process. Whether it be a new build, remodel, 1 room or 1 piece. If you are looking for something unique chances are we can find it and if not, we can make it! Some of our vendors include Calligaris, GUS Modern, Incanto, American Leather, Environment, Lazar and hundreds more. Not to mention 100% Local Art!
We welcome Fusion Home Fashion to the iComEx family and look forward to many years working together.