Support To The Restaurant Industry for 25 Years
Main Auction Services, Inc.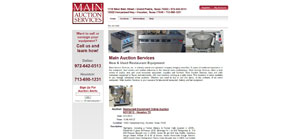 is a family owned and operated company bringing more than 35 years of combined experience in the restaurant, food service and related industries to the internet sales marketplace. Main Auction Services offers a wide variety of quality, new and used restaurant equipment, supplies and furniture. Main Auction Services buys and sells restaurant equipment in Texas and nationwide, with new inventory arriving on a daily basis. This inventory is made available to you through scheduled online auctions. Whether you need to buy or sell one piece, or the contents of an entire restaurant, Main Auction Services is your resource for late-model restaurant, bakery and bar equipment.
Main Auction Services, Inc. is a family owned and operated company. Specializing in auctions featuring used and new commercial restaurant, bar and bakery equipment, Main Auction Services also provides inventory liquidation and appraisal services, in addition to its internet based auction services. Complete packaging, specialized crating and nationwide freight services are available. Local delivery service is available in the Dallas / Fort Worth metro area for auction purchases. Equipment financing options may be available in the near future.
Located on Main Street in Grand Prairie, TX, Main Auction Services is centrally located within the Dallas / Ft. Worth metroplex. Plans are in the works to open another location in the Houston area late in 2012. There are also plans to add home furniture, decor and appliances to the company's offerings in the near future. Main Auction Services is a member of the National Auctioneers Association, the Texas Auctioneers Association, and the Restaurant News Association.
No matter where you are in the United States, or what you need, our team will customize the right plan for your new website. Call us today at 972-712-2100.
Welcome to the iComEx Family Main Auction Services. We look forward to the future and doing business with your company. Congratulations on your Success!