US Immigration Law Specialists
Holt James Law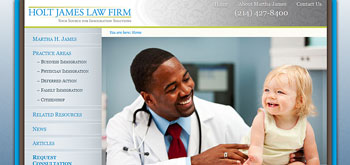 United States immigration law is constantly changing. Filing for a visa, permanent residence, or citizenship without knowing the intricacies of the law may adversely affect your case, sometimes permanently. It takes a dedicated attorney to keep up with the ever-changing laws, regulations, and policies that dictate how a case may be decided. Don't step into the immigration minefield without an attorney that practices immigration exclusively. Contact the Holt James Law Firm.
Martha H. James works with companies and individuals to obtain immigration benefits. She has helped hundreds of people obtain H-1B, L1, B1 and F1 visas. Additionally, she works very closely with foreign physicians to obtain J1 waivers through the Conrad 30 programs, Appalachian Regional Commission, Delta Regional Authority and Hardship Waivers. She has obtained labor certifications and national interest waivers for those seeking permanent residence and naturalization for clients wishing to establish permanent ties with the United States.
Welcome to the iComEx family Holt James Law. We look forward to the future and doing business with your company. Congratulations on your Success!