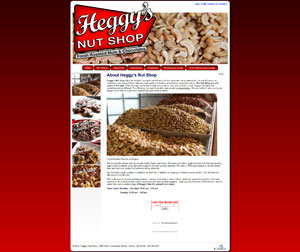 Heggy's Nut Shop offers the freshest, premium roasted nuts and fine chocolate candy nationwide. For over 60 years our customers have enjoyed these delicious, high-quality confections at extremely competitive prices. The first thing you will notice is the taste. If the only nuts you've eaten came from a can or a jar, you are in for a treat. Heggy's will taste like something entirely different. The difference, we roast fresh daily and we add no preservatives. We are confident once you try our product you'll want to enjoy them yourself and serve them to others.
We ship freshly roasted nuts across the United States year-round. We select only fancy grade premium nuts from top growing regions and constantly scout the world supply for the best product available. We roast in 100% pure peanut oil for the perfect flavor and seal your product for freshness during shipment.
Heggy's Nut Shop is an ecommerce enabled website site, with over 350 combinations of nuts, candies and specialty products to choose from for your your enjoyment.
No matter where you are in the United States, or what you need, our team will customize the best web site for you. Call us today at 972-712-2100.
Welcome to the iComEx Family Heggy's Nut Shop. We look forward to the future and doing business with your company. Congratulations on your Success!