Do You Need Help Today?
Get A Loan from Gold Star Finance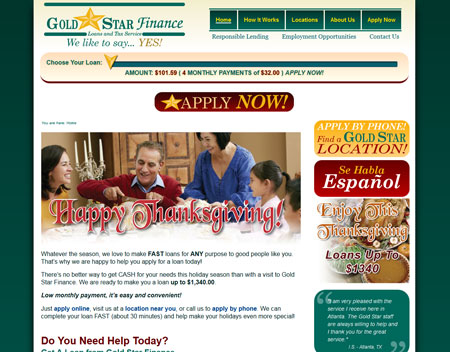 Life has its challenges - Gold Star Finance, Inc. helps take the stress out of your life. For over 48 years, Gold Star Finance has been helping people, just like you, deal with life's day to day challenges by making small personal loans from $100.00 up to $1,300. With over 50 locations in Texas, Gold Star Finance is here to serve you from Brownsville to Wichita Falls and from Texas City to Texarkana.
Don't Have Perfect Credit?
No Worries! Gold Star Finance makes traditional installment loans that are the perfect solution for those who need cash immediately or those who may not have good credit to qualify for a conventional bank loan. Our loans can even help you build a better credit score.
Apply online now or find a location near you and a professional, qualified Gold Star Finance staff member will help you with any questions you have about our short term consumer loans.
Gold Star Finance - We Like To Say "YES!"
Whatever the season, we love to make FAST loans for ANY purpose to good people like you. That's why we are happy to help you apply for a loan today!
There's no better way to get CASH for your needs this holiday season than with a visit to Gold Star Finance. We are ready to make you a loan up to $1,340.00.
Low monthly payment, it's easy and convenient!
Just apply online, visit us at a location near you, or call us to apply by phone. We can complete your loan FAST (about 30 minutes) and help make your holidays even more special!
Welcome Gold Star Finance and all your 50 locations to the iComEx Family. We are very pleased that your company has chosen us to represent Gold Star Finance, and we look forward to working with you and all your staff in the coming years! Be sure to check out the Application area of the site. This was a special programming process created just for Gold Star clients convenience at all 50 locations.