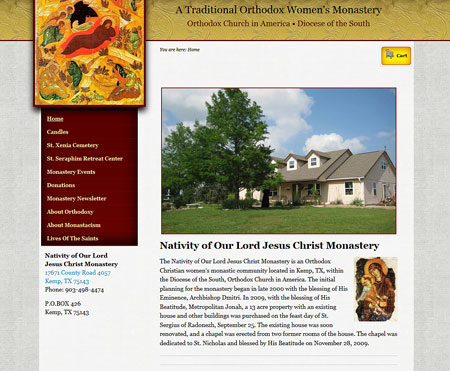 The Nativity of Our Lord Jesus Christ Monastery is an Orthodox Christian women's monastic community located in Kemp, TX, within the Diocese of the South, Orthodox Church in America. The initial planning for the monastery began in late 2000 with the blessing of His Eminence, Archbishop Dmitri. In 2009, with the blessing of His Beatitude, Metropolitan Jonah, a 13 acre property with an existing house and other buildings was purchased on the feast day of St. Sergius of Radonezh, September 25. The existing house was soon renovated, and a chapel was erected from two former rooms of the house. The chapel was dedicated to St. Nicholas and blessed by His Beatitude on November 28, 2009.
Special Monastery Invitation
One Year Memorial for + Schema Nun Elizabeth
The sisters of Nativity Monastery invite you to join them for the one year memorial for departed + Schema Nun Elizabeth on Tuesday, October 14, 2014. The Divine Liturgy will begin at 9:30am, followed by a Pannikhida in the Blessed Xenia Cemetery. A luncheon also will be served afterwards in the St. Seraphim of Sarov Retreat Center.
You may RSVP by calling the monastery at 903-498-4474 or by sending an email to This email address is being protected from spambots. You need JavaScript enabled to view it.
+ Schema Nun Elizabeth fell asleep in the Lord on October 14, 2013. May her memory be eternal!
Welcome Dear Sisters to the family here at iComEx. A place of retreats, peace, education events and love is always welcome to the Texas community around Dallas. Thank you for your prayers for us, and for all our clients.