Presents : Tech or Treat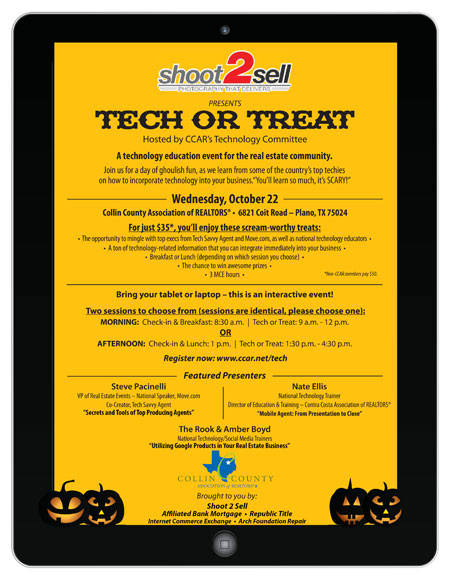 Thank you Collin County Association of Realtors for your attendance at this awesome event! It was well attended and our staff enjoyed meeting so many who stopped by our booth at this event. If you still have questions, remember to give us a call on how we can assist you with your MLS listings on your Brokerage and Agent websites...We are here to Serve.
A technology education event for the real estate community. Join iComEx at this premier event for the Realtors in North Texas. iComEx will have a vendor booth, plenty of treats, prizes, and specials for new business clients. Be sure to register for the door prizes! See you there!!!!
Presented by Shoot 2 Sell & hosted by CCAR's Technology Committee
Wednesday, October 22, 2014
CCAR Banquet Room - 6821 Coit Road, Plano
Two sessions to choose from (sessions are identical, please choose one):
MORNING SESSION
Check-in & Breakfast: 8:30 a.m.
Tech or Treat: 9 a.m.-12 p.m.
OR
AFTERNOON SESSION
Check-in & Lunch: 1 p.m.
Tech or Treat: 1:30-4:30 p.m.
For just $35, you'll enjoy these scream-worthy treats:
The opportunity to mingle with top execs from Tech Savvy Agent and Move.com, as well as national technology educators:
A ton of technology-related information that you can integrate immediately into your business
Breakfast or Lunch (depending on which session you choose)
The chance to win awesome prizes
3 MCE hours
*Non-CCAR members pay $50.
Due to limited seating, those who fail to cancel 48 hours in advance, arrive on time, or attend the event will forfeit their $35 registration fee. To register for Tech or Treat, please call CCAR at 972-618-3800.
"You'll learn so much, it's SCARY!"
Join us for a day of ghoulish fun, as we learn from some of the country's top techies on how to incorporate technology into your business.