1st Annual Fundraising Event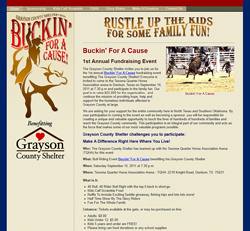 The Grayson County Shelter invites you to join us for the 1st annual Buckin' For A Cause fundraising event benefiting The Grayson County Shelter! Everyone is invited to come to the Texoma Quarter Horse Association arena in Denison, Texas on September 10, 2011 at 7:30 p.m and participate in the family fun. Our goal is to raise $25,000 for the organization, and continue the mission of providing hope, help and support for the homeless individuals affected in Grayson County at large.
We are asking for your support for the entire community here in North Texas and Southern Oklahoma. By your participation in coming to the event as well as becoming a sponsor, you will be responsible for creating a unique and valuable opportunity to touch the lives of hundreds of hundreds of families and reach the Grayson County community. This participation is an integral part of our community and acts as the force that makes some of our most valuable programs possible.
Our goal for this event is to raise $25,000 + in net proceeds for the Shelter. These funds will be used towards the completion of over 20 Capital Funds projects that have been slated for fiscal year 2011. It is our hope to exceed the total amount required for this year, and we are excited to ask for your involvement in this year's event to help raise funds for our cause, attract attendees, and generate local and regional attention.
iComEx welcomes this 3rd web site to the iComEx family for the Grayson County Shelter located in Denison Texas. This fundraising website is designed and provided as a donation on behalf of iComEx as part of our ongoing efforts to give back to our community. We are grateful to everyone at Grayson County Shelter for their hard work and help providing food, clothing, shelter and hope to so many families in the Texoma region of North Texas and Southern Oklahoma!