Dallas Tankless Water Heaters
Atlas Plumbing Offers The Best Choice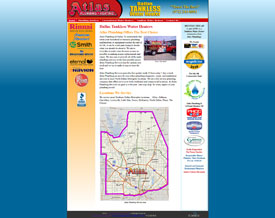 Dallas Tankless Water Heaters & Atlas Plumbing of Dallas Tx understands that when your household or business plumbing malfunctions or equipment reaches the end of its life, it can be a real pain trying to decide what you should do about it. We strive everyday to make your decision as easy as possible in making proper replacements and repair. We also aim to provide all of the right plumbing services at the best possible prices. Atlas Plumbing Services has the options you need and we try to make it easy to trust the best.
Atlas Plumbing Services provides fast quality work 24 hour a day 7 day a week. Atlas Plumbing can provide you with a plumbing diagnostic, repair, and installation services to most North Dallas Metroplex locations. We are a full service plumbing company that offers services to both residential and commercial locations. At Atlas Plumbing Services our goal is to be your 'one-stop shop' for every aspect of your plumbing needs!
Locations We Service
We service most Northern Dallas Metroplex locations… Allen, Addison, Carrollton, Lewisville, Little Elm, Frisco, McKinney, North Dallas, Plano, The Colony.
We welcome Dallas Tankless Water Heater.com to the iComEx family. Everyone here is looking forward to working with you and the members of your company in the coming years.