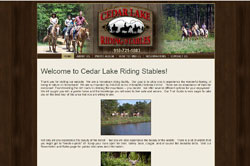 Cedar Lake Riding Stables is a horseback riding facility. Their goal is to allow you to experience the wonderful feeling of being in nature on horseback! They are surrounded by 240,000 acres of beautiful National Forest. There are an abundance of trails for everyone! From traveling the dirt roads to climbing the mountains -- you decide. They offer several different options for your enjoyment. They will supply you with a gentle horse and the knowledge you will need to feel safe and secure. Cedar Lake Riding Stables has a Trail Guide that is very eager to take you on the best tour of this area that you are willing to see.
Not only will you experience the beauty of the forest -- but you will also experience the beauty of the wildlife. There is a lot of wildlife that you might get to "sneak-a-peek" at! Keep your eyes open for deer, turkey, bear, cougar, and of course the beautiful birds. Visit our Reservation and Rates page for guided ride rates and information.
Call Diane today for reservations @ 918-721-1883.
Welcome Cedar Lake Riding Stables to the iComEx family. We look forward to working with you in the coming years. Enjoy Riding.