Take A Peek!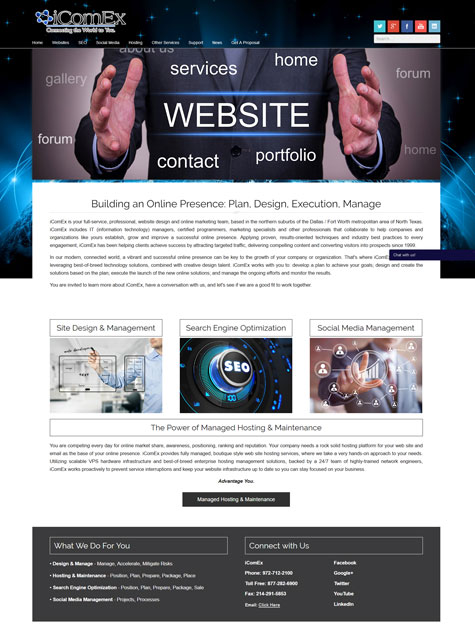 iComEx is pleased to reveal it's newly redesigned website. Among the new features the iComEx website contains are: integrated social media buttons for Facebook, Twitter, Google+, YouTube, and Linkedin; Live Chat; online quote request form; online service request form; online support trouble ticket form; online non-profit organization discount application; self-service domain name search and registration; and remote support application download. Improved communications with clients is a goal iComEx looks forward to in the coming years. Regular updates on content, helpful information and tips, industry related articles, case studies, newsletters, company announcements and client success stories are a new focus. Be sure to come back frequently as iComEx sends out newsletters which will focus on new technology, techniques, and special offers to enhance your existing services.
iComEx has worked very hard to evolve from a simple website development firm, into a full-service, professional, website design and online marketing team working 24/7 on your behalf. iComEx, a proud Texas based company, now serves clients nationwide - planning, designing, executing and managing business websites. iComEx is capable of meeting your needs with a talented staff creatively employing the latest technical knowledge of our ever changing industry.
iComEx invites you to visit and explore the new website. Let us introduce you to the full range of products and services now offered. iComEx has continued to develop and grow in the last 18 years; into a business support firm that actively responds to your needs in today's marketplace. iComEx is focused on working to improve the online performance of your business.
A successful online presence can be critical to the growth or your company or organization. iComEx leverages best-of-breed web technology solutions and creativity to enable you to achicieve your goals. Our clients achieve success by attracting targeted traffic, delivering compelling content and converting site visitors into prospects. Achieve your goals by asking iComEx to create the best solution for your company based on your plan.
Be sure to watch for upcoming newsletters featuring Special Offers, Coupons, Referral Incentives, and more as time moves forward. Ask us about the new services that will benefit your company with a quick call to 972-712-2100.
Thank you for being part of the growing iComEx family!