Dallas Family Lawyer - Bankruptcy & Mediation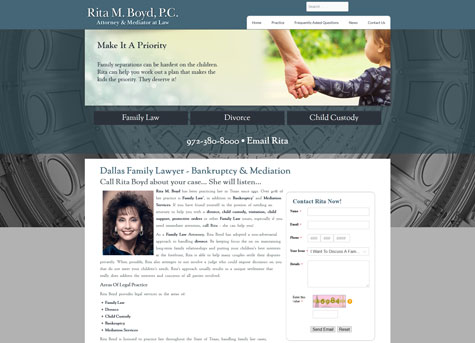 iComEx has launched the new redesigned Rita Boyd Attorney & Mediator at Law website. It looks great Rita and we are so excited to see the website deliver all the services you have available to provide for the Dallas Ft. Worth community. For those new clients, Call Rita Boyd about your case . . . She will listen.
Rita M. Boyd has been practicing law in Texas since 1992. Over 90% of her practice is Family Law*, in addition to Bankruptcy* and Mediation Services. If you have found yourself in the postion of needing an attorney to help you with a divorce, child custody, visitation, child support, protective orders or other Family Law issues, especially if you need immediate attention, call Rita - she can help you!
As a Family Law Attorney, Rita Boyd has adopted a non-adversarial approach to handling divorce. By keeping focus the on on maintaining long-term family relationships and putting your children's best interests at the forefront, Rita is able to help many couples settle their disputes privately. When possible, Rita also attempts to not involve a judge who could impose decisions on you that do not meet your children's needs. Rita's approach usually results in a unique settlement that really does address the interests and concerns of all parties involved.
Areas Of Legal Practice
Rita Boyd provides legal services in the areas of:
Family Law
Divorce
Child Custody
Bankruptcy
Mediation Services
Rita Boyd is licensed to practice law throughout the State of Texas, handling family law cases, bankruptcies and mediations mostly within the great Dallas / Fort Worth metroplex and the surrounding areas in Dallas, Collin, Denton, Rockwall, Kaufman and Ellis counties. Conveniently located on Keller Springs Road, just west of the North Dallas Tollway, Rita's office is a comfortable place to discuss situation. Contact us online or call 972-380-8000 to schedule a consultation.