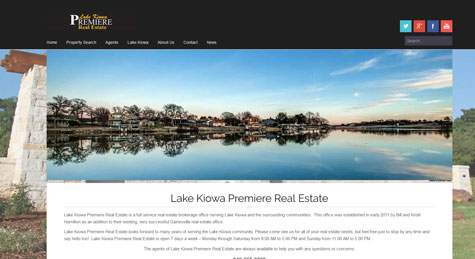 Lake Kiowa Premiere Real Estate is a full service real estate brokerage office serving Lake Kiowa and the surrounding communities. This office was established in early 2011 by Bill and Kristi Hamilton as an addition to their existing, very successful Gainesville real estate office.
Lake Kiowa Premiere Real Estate looks forward to many years of serving the Lake Kiowa community. Please come see us for all of your real estate needs, but feel free just to stop by any time and say hello too! Lake Kiowa Premiere Real Estate is open 7 days a week – Monday through Saturday from 9:00 AM to 5:00 PM and Sunday from 11:00 AM to 5:00 PM.
The agents of Lake Kiowa Premiere Real Estate are always available to help you with any questions or concerns.
940-665-3300
- See more at: http://www.lakekiowarealestate.com/#sthash.8pknr79M.dpuf
Unlike other lake developments – Lake Kiowa is an exclusive, master-planned resort / retirement community that is wholly owned and governed by its property owners – not developers. At Lake Kiowa you find a securely gated country club community, nestled among towering trees on the shores of a private, sparkling, 600 acre lake.
For many years, this hidden, tranquil paradise was purposely not advertised or publicized. The rapid growth of North Texas and the new and extended tollways are now making it easier for more people to discover Lake Kiowa, one of the finest country club / lake developments in America!
- See more at: http://www.lakekiowarealestate.com/#sthash.8pknr79M.dpuf