More Secure, Better Deliver, New Features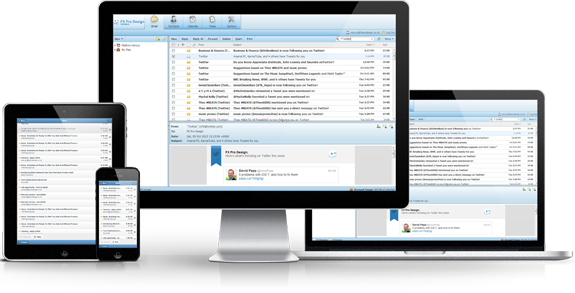 iComEx is please to introduce our new email services. Effective March 1, 2016 iComEx is now offering IMAP protocol email accounts with 1GB of space. The new IMAP email services are running on dedicated email servers, not as part of the regular web site hosting services. This allows us to offer these new account with more space available than to previous POP3 accounts, in a more secure environment, with better deliverability.
POP vs IMAP
Both POP (Post Office Protocol) and IMAP (Internet Message access protocol) allow people you get access to your email from a remote email server. However, that is where most similarities end. POP simply downloads all of your email to your local computer, and usually (unless its configured otherwise) deletes the email from the remote server. The problems start if you have more than one device where you want access and read your mail (desktop, laptop, tablet or phone). Here's why it's bad: Not only do you have to download your email to each device, you also have to delete or file the same email on every device.
Logging into each device with POP, you will see lots of unread emails with no indication of which you deleted, read, flagged or filed. Any folders you created and organize on one device won't be replicated on your other devices.
IMAP allows you to store your email on remote email servers. This two-way protocol also allows the you to synchronize your email among multiple devices, which is extremely important today, when most of us have at least two devices - their laptop and smartphone.
Transition
Beginning on March 1, 2016 iComEx will start the process of moving all of our client's email account from the current email services, that are shared on the web site servers, to the new dedicated email servers. We will be in contact with each client to coordinate this transition. Our hope it to have everyone moved by the end of April at the latest.
During this transition process each client (or individual email user) will be required to make changes in their email software and devices to connect to the new email account(s) and import any email you want to migrate from service to another. A good basic guide to this process can be found here:
How To Switch From POP to IMAP In 5 Minutes
Follow the instructions in the "Other" column for your software or device.
The only notable change to this instruction is that your do not need to manually configure the new account. You should be able to allow the auto-configure tools in your software or device set up the new account for you. You can follow the manual process if needed.
Fees
There is a nominal price increase, from $3.00 per account per month to $5.00 per account per month, for the new IMAP based email account. All account come with 1GB of storage. Additional storage is available at a cost of $1.00 per GB per month per account. All accounts still enjoy the MX Guardian spam and virus filtering service.
Setup assistance is available for those who need it:
Remote setup assistance is $75.00 per hour.
On-Site setup assistance is $95.oo per hour, plus travel time.
To schedule assistance, please call us at 972-712-2100 and ask for Caryn. She will be happy to schedule a session for you.