Keith Clay Floors New Website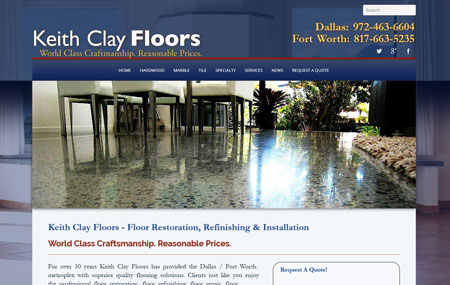 For over 30 years Keith Clay Floors has provided the Dallas / Fort Worth metroplex with superior quality flooring solutions. Clients just like you enjoy the professional floor restoration, floor refinishing, floor repair, floor installation and floor maintenance services that have always been a quality hallmark of Keith Clay Floors for both residential and commercial settings. Call 972-463-6604 or 817-663-5235 today to request a quote. or submit the Request a Quote form.
A wide range of hard surface flooring services are provided, including:
Hardwood Floor Installation
Hardwood Floor Repair
Hardwood Floor Restoration
Hardwood Floor Refinishing & Sanding
Marble Floor Installation
Marble Floor Repair
Marble Floor Restoration
Marble Floor Honing & Polishing
Tile Floor Installation
Tile Floor Repair
Tile Floor Restoration
Tile Floor Stripping & Refinishing
Keith Clay Floors works with almost any kind of hard surface flooring product. From hardwood floors the ceramic tile floors, from Mexican tile floors to brick floors, from marble floors to polish concrete floors, and many more.
Keith Clay Floors provides several exclusive services in the Dallas area: floor installation, floor refinishing, and floor maintenance. This also includes natural stone and marble polishing and marble honing. Each of these jobs takes special skill and knowledge to make your home look its best. We make sure all of this work is done right. We are experts at installing tile and slate. Refinishing hardwood floors takes expertise, tools, and patience and we have them. We recommend the best maintenance for your brick floors, which is sealing and waxing. For slate floors we recommend a sealer that makes it easier to clean in the future.
When it comes to exclusive services we at Keith Clay Floors do our absolute best to achieve the highest service possible. Whether is it installation, refinishing, or maintenance we can help. We take care of professional maintenance and explain the proper home care of your floor. We have the skilled personnel to install your floors professionally giving you complete satisfaction.