Welcome To The New Brainstyles Website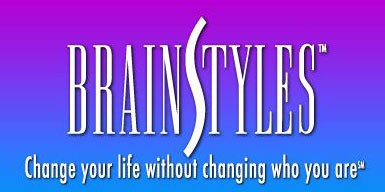 Welcome to The New Brainstyles website. Marlene Miller, Author, Developer and Researcher of The BrainStyles System®, Founder of the international Licensing organization, BrainStyles, Inc. says"I invite you to explore our web site. Learn how BrainStyles was born in a business setting instead of a classroom. Explore how you can get behind behaviors and appearances to the gifts beneath. No more tricks or communication techniques, just you being you at your best, using your natural brainstyle."
"To improve yourself, be more yourself. To create a long-lasting partnership, stop trying to change yourself or your partner.
Go beyond personality types and self-help books. Redefine yourself from within. Start by learning about and then applying your natural, hardwired brainstyle™ to grow as a leader, build teams naturally without long lists of behavioral descriptions, while you reduce stress and conflict.
"Your job in life is not to learn how to be different [or better], it is to spend more time realizing, and living from the best that's already within. The difference between people who "realize their potential" and those who don't is not the amount of potential, but the amount of permission they give themselves to use it."
We welcome all of you in the Brainstyles company to the iComEx family and look forward to working with each one of you in the years to come. Thank you for choosing iComEx as your website developer! It's a wonderful vote of confidence for us.