Industry Experts For Over 25 Years
Commercial Cleaning & Building Maintenance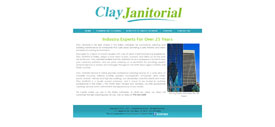 Clay Janitorial is the best choice in the Dallas metroplex for commercial cleaning and building maintenance for companies that care about providing a safe, healthy and clean professional working environments.
Managed by a team of industry experts with over 25 years of janitorial service experience, Clay Janitorial in Dallas, assigns a work team to plan, conduct, and follow up on the work we do for you. Clay Janitorial realizes that the sanitation of your workspace is crucial to how your company performs, and we pride ourselves on a reputation for providing superior janitorial services to owners and managers throughout the North Texas region in Dallas County and Collin counties.
Clay Janitorial Service in Dallas provides professional cleaning services to a wide array of industries including medical facilities, property management companies, retail stores, banks, schools, mid-rise and high-rise buildings, car dealerships, industrial plants and more. Clay Janitorial is a locally owned company, and is proud to be trusted by business professionals in the Dallas / Fort Worth area. Insured and Bonded, we offer professional cleaning services which will maintain the appearance of your facility.
No matter where you are in the Dallas metroplex, or what you need, our team will customize the right cleaning plan for you. Call us today at 972-463-6604!
Welcome to the iComEx Family Clay Janitorial. We look forward to the future and doing business with your company. Congratulations on your Success!