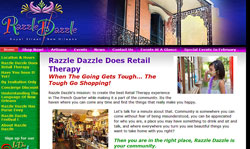 Razzle Dazzle - iComEx is pleased to announce the re-launch of the Razzle Dazzle website on the newly acquired RazzleDazzle.com domain name. After nearly a year of diligent negotiations ICOMEX was able to acquire the premium domain that was once held by the Kellogg's Company. The domain was acquired for an undisclosed amount.
This new web site makes use of several the iComEx Content Management Systems behind the scenes: ICX Publish, ICX Resources, ICX Banners, ICX Events, ICX Shop, and the ICX Stats & Counters package. These are all part of the next generation version of the popular ICX Publish web site publishing suite.
The site features extensive information about the Razzle Dazzle store, located at 524 Royal Street in the heart of the historic New Orleans French Quarter, as well as upcoming New Orleans events, profiles of artist and craftspeople who's products are carried in the store, and much more. The site will soon have an online e-commerce store slated for deployment in late summer of 2011.
Razzle Dazzle's mission: to create the best Retail Shopping Therapy experience in The French Quarter while making it a part of the community. Its the haven where you can come any time and find the gifts, home decor and jewelry that really make you happy.
Let's talk for a minute about that. Community is somewhere you can come without fear of being misunderstood, you can be appreciated for who you are, a place you may have something to drink and sit and talk, and where everywhere you turn you see beautiful things you want to take home with you right?