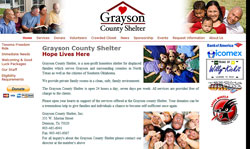 Grayson County Shelter - The Grayson County Shelter is a non-profit homeless shelter for displaced families which serves Grayson and surrounding counties in North Texas as well as the citizens of Southern Oklahoma.
They provide private family rooms in a clean, safe, family environment.
The Grayson County Shelter is open 24 hours a day, seven days per week. All services are provided free of charge to the clients.
Please open your hearts in support of the services offered at the Grayson county Shelter. Your donation can be a tremendous help to give families and individuals a chance to become self-sufficient once again.
This new web site makes use of several the iComEx Content Management Systems behind the scenes: ICX Publish, ICX Resources, ICX Banners, ICX News, and the ICX Stats & Counters package. These are all part of the next generation version of the popular ICX Publish web site publishing suite.