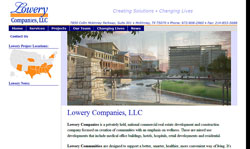 Lowery Companies was a National Commercial Real Estate Development & Construction Company In July 2009 ICOMEX launched the new Lowery Companies website. Lowery Companies is a privately held, national commercial real estate development and construction company in Dallas Texas focused on creation of communities with an emphasis on wellness. These are mixed use developments that include medical office buildings, hotels, hospitals, retail developments and residential.
Lowery Communities are designed to support a better, smarter, healthier, more convenient way of living. It's an achievement without equal ~ shed of convention, freed from limitations, yet devoted to balance, functionality and individual well-being.
Lowery Construction is a national Construction Management Company providing highly skilled services to our clients. We have worked hand in hand with financial institutions, owners, developers, governmental agencies, design consultants and construction contractors in all segments of the construction industry. The company is dedicated to continued training, promoting and encouraging superior results on each project.
This new web site makes use of several the iComEx Content Management Systems behind the scenes: ICX Publish, ICX Resources, ICX Banners, ICX Events, and the ICX Stats & Counters package. These are all part of the next generation version of the popular ICX Publish web site publishing suite.