Keith Clay Floors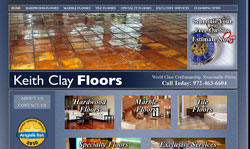 - Keith Clay Floors provides high quality, professional, and personalized services for your commercial and residential flooring projects. As a completely diversified company, Keith Clay Floors works with custom nail down or glue down hardwood floors, staining and sealing brick floors, Mexican tile floors & refinishing, concrete staining and sealing, marble floor resurfacing and polishing, and total floor remodeling.
We work closely with you to develop a program that best fits your sourcing needs. From product development and sampling, to production and quality control, to supply chain management and logistics - our turnkey solutions allow you to focus on your core competencies and servicing your customers. Keith Clay Floors provides hardwoods, handscraped hardwoods, antique and reclaimed hardwoods, marble, tile, stained concrete, brick, bamboo, cork, and sports flooring in and around the Dallas metroplex.
This is the third generation web site launched in March 2009 and makes use of our latest SEO friendly conversion architecture, and several of the iComEx Content Management Systems behind the scenes: ICX Publish, and the ICX Stats & Counters package. These are all part of the next generation version of the popular ICX Publish web site publishing suite.